I've lived in Utah all my life and love it here. Utah is simply incredible in its scenic variety. I currently reside in Tooele (just outside of Salt Lake City), with my wife and 4 children.

I was first introduced to the art of nature photography in high school through the book "Mountain Light", by pro-adventure photographer Galen Rowell. His images and adventures captivated me, and gave me additional motivation to seek the "freedom of the hills".

Although I enjoy photography as an art by itself, my entire motivation and inspiration come from wild places. Most of my favorite images were made on multi-day backpacking trips where I can become immersed in natural surroundings. Such trips have included the Great Western Trail through Utah, the Pacific Crest Trail through the Sierras and Cascades, and multiple trips to Utah's High Uintas Wilderness on peak-climbing trips.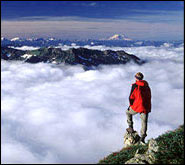 Self-portrait, Cascades, Washington